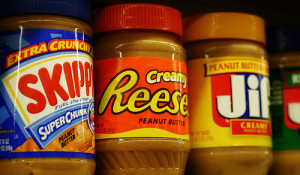 "It's Peanut Butter for God's Sake!" In the middle of Wal Mart, I just wanted to scream. Sometimes I am amazed at how much energy, life, attention is ABSOLUTELY WASTED when people hold their breath, make fuzzy movies, and AGONIZE over SIMPLE DECISIONS.
POWERPOINT: Every wealthy person I have met, modelled, or Mind Hacked MAKES UP THEIR MIND QUICKLY. They don't RUSH IN, but they ARE DECISIVE. In other words, they don't treat their lives like a major world crises centered around which jar of peanut butter….
Anyhoo…
Another lady at the Wal Mart today said to me that I look like I am on a mission. We had a great 187 second conversation – a real conversation. While I was on a mission. Next time you are at the Wal Mart – notice that most people:
Don't move like they are on a mission – or have a life.
Won't bother saying hello – know how to have a conversation.
Agonize over PEANUT BUTTER or other stupid decisions

.
Let's face it, Joe Sixpack is addicted to agonizing over decisions. Don't be Joe Sixpack.
And let's get this bit of STINKIN THINKIN ONCE AND FOREVER:
It's not the Government or the Conspiracy or the Politicians keeping him dumb and broke – it's the fact that he either doesn't know how to make a decision – be decisive – on what matters most – or he never learned HOW TO MAKE A DECISION OR RUN HIS MIND.
Anyhooo….
For your own sake… Notice: In the past week, what have you accomplished? Where have you stretched? What are you excited about? What is energizing you? I WANT TO KNOW. Leave a comment below.
Yesterday I wrote about how my writing and productivity is way AMPED UP with Srivener. All because I took FOUR MINUTES TO SPEED SLICE – to determine if it was worth it to invest 2 days of my life mastering a new tool.
I am loving it so much, my GF… well let's say she's heard TONS about it. I've also in the past week really EXPLODED PAST some old COMFORT ZONES – and once you get how those limit your income – happiness – health….
And I showed a way to make DECISIONS LIKE LIGHTNING….
Your turn. Leave a comment. Read up. Take action.
Time to Rock and Roll!
Mr Twenty Twenty
PS: This is where I share Apache Scout Mind Control 2012 = Click here. Obviously, I like it, I like it a lot. Because it's simple, straightforward, and… Go watch the vids. Get it if it makes sense. Whooo yah!